Wii U:

Donkey Kong Country: Tropical Freeze
Super Smash Bros. for Wii U incl. GC adapter
Rayman Legends
Darksiders II
Zombie U

PS3:
Playstation 3 met 500GB schijf, 1 controller en 10 games;

Soul Calibur IV
Socom Confrontation + headset
Resident Evil 5
Little Big Planet
Metal Gear Solid 4
Fifa 11
Burnout Paradise
Tekken 6
Street Fighter IV
The Last of Us

Op zoek naar:

Yoshi's Woolly World
Splatoon
The Legend of Zelda: The Wind Waker HD
Super Mario Maker
Te ruil en/of te koop:
Quote:
Indien inclusief verzendkosten hebben we een deal.
Gepost door: Kh_puma op 10-11-2015 17:58
Nee sorry, daar kan ik het niet voor doen
Quote:
Goedendag,

Wat is de richtprijs voor Super Smash Bros. for Wii U incl. GC adapter?
Gepost door: Themadman op 11-11-2015 10:56
€60,- exclusief verzendkosten

Geen probleem, laat het maar weten mocht je je bedenken, kost maar 15 euro bij de GameMania, vandaar.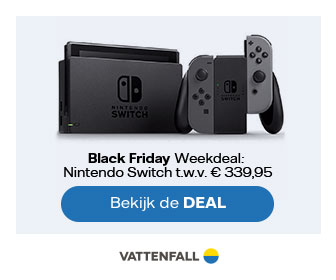 Nieuws

PS4

Prijsreactie

Forum

Shopsurvey

<![if !(IE 8)]>