Inhoud pakket:
3x Author - Witbier - 5.0%
2x Shake it Out - Double Milkshake IPA - 8.5%
2x Setting Sun - NEIPA - 6.0%
2x Bulldog - IPA - 6.0%
2x I Get Those Gose Bumps Everytime - Imp. Fruited Gose - 8.5%
2x Juice Punch - NEIPA - 5.8%
2x Billiard - Imp Coffee Stout - 11.0% (I.P.V. Born and Raised)
2x Andreas - Bredase Tripel - 8.5%
3x Pie Me A River - Lemon Meringue Pie Sour - 7.5%
2x Freehand - Blond - 6.0%
2x May I Have Your Intention, Please - Imp. Stout w/ white chocolate and speculoos - 11.0%
Nu weer een andere (voor 17 euro) van Hopt: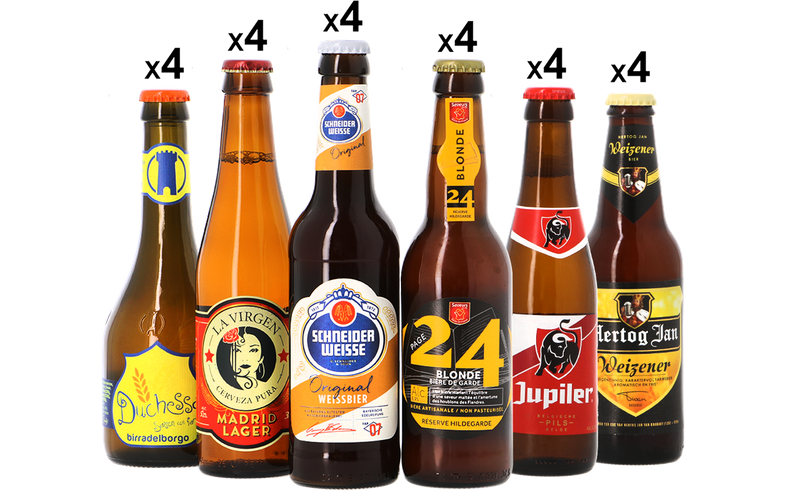 Het Mega Pack Euro 2020 bevat in totaal 24 bieren.
In dit pakket vind je 6 landen met elk vier bieren, namelijk :
4 Duchessa van Birra Del Borgo, een Italiaanse Saison met aroma's van mout, graan en fruit.
4xLa Virgen Madrid Lager, een lichte en dorstlessende Spaanse pils
4xSchneider Weisse Tap 7 Original, een fris Duits witbier met moutige noten.
4xPage 24 Réserve Hildegarde Blond, een Frans bier, rond en rijk met tonen van mout en specerijen.
4xJupiler, een Belgische blond bier, moutig, licht en dorstlessend.
4xHertog Jan Weizener is een volle Nederlands pils met citrus en koriander
---
Ahoy there, crew! It's me, your brudder from anudder rudder!
Tijdje terug deze box van Frontaal besteld voor 54.95:
Quote:
(Image)
Heel erg lekker
Gepost door: Ffs21 op 30-01-2021 08:37
Ben niet echt een bier fanaat,maar deze wil ik wel eens proberen..
---
Ofte jeg drømmer mig Død..

Ik heb op het moment alleen nog maar Desperados en Corona in huis; wat gekocht toen de aanbiedingen nog mochten (voor 1 juli dacht ik).
Top 10 van Budgetgamers - September

Nieuws

PS4

Prijsreactie

Forum

Shopsurvey

<![if !(IE 8)]>